Thursday, June 26, 2008
I spent a delightful day down in Boston with Ben and the in-laws touring the Boston Science Museum. I hadn't been there for several years, but it was fun to go through some of the familiar exhibits and feed the part of my brain that is still in love with math and physics (and wonders why I left it in the first place).

My favorite exhibit is probably the one dedicated to mathematics, but close behind are the electricity presentation (and playing with eddy currents), the butterfly garden, the cotton-tailed monkeys, and all the fun interactive stations on the lower level. Currently, they have a special exhibit on baseball with all sorts of neat historical artifacts and information...and Curt Schilling's bloody sock from the 2004 World Series. Not nearly as cool or as historic as the bloody garment Gandhi was wearing when he was assassinated that I saw in India, but neat nonetheless.

I am going to love being this close to Boston. We'll be a train-ride away on the commuter rail, and for some of the other attractions, driving into the city won't be too difficult (New Jersey driving has made me rather fearless). There are all sorts of things I would love to do: the Aquarium, Museum of Art, the Children's Museum, catch a few shows, etc... I hope that we get to go into Boston at least once a month.

In the spirit of the science-y day I had, I leave you with a webcomic from xkcd: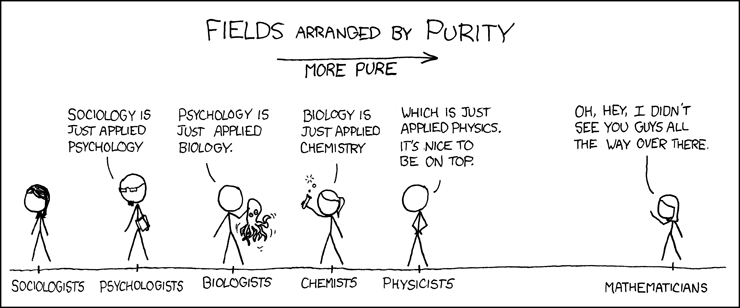 Tuesday, June 24, 2008
I blinked, and a month has flown by without me really being aware of it. Finishing up at Westwood, moving in with the in-laws, local pastor's licensing school, annual conference, and catching up with life have occupied my time since the end of May. But now, Ben and I are on vacation before July 1st comes and we are the official pastors of the Good Shepherd UMC in Haverhill, MA and we move into the parsonage.

I'm excited about going into ministry and stepping out for the first time "on my own", so to speak. I'm also, frankly, terrified. I know I'll make mistakes (as will Ben), and I know I'll be busy balancing ministry with school and rest and church planting. But it will be good.